Quiet, in the maquis Corsica Fianca L'Osso is located 3km from Campomoro facing the sea. In a remarkable and protected site … ..with its garden of 4500m2, our guest house extends from maquis to sea.
Read more
Consisting of 3 guest rooms with private terraces sea view. We offer 2 suites for 2 to 4 people and a room for 2 people.
We thought this guesthouse just like what we like, a welcoming and friendly family home.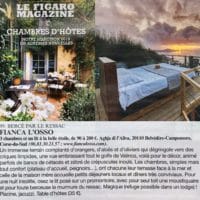 Our 3 guest rooms has lots of different living space: the garden, with a
shaded picnic area, pétanque area and ping pong for sports, hammocks and sun loungers spread over 7 terraces for naps and relaxation.
Our unusual accommodation is a bed under the stars … surrounded by nature, with an impregnable sea view from Campomoro to Propriano.
Breakfasts served or on the terrace sea view or in the dining room, depending on the season, bread, cereals, yogurt, jams and homemade pastries, fruit salad, cheese, delicatessen .. and surprise … .. fresh eggs from our hens
So that everyone's relaxation is respected and especially the famous "nap", the pool area … ..and spa nap from 13h to 15h …Our little guests can not access and stay alone at the spa or pool.
Fianca L'Osso is a home where relaxation and hospitality are key words.
We are here too to help you discover good addresses, coves and secret discoveries …